April 25, 2012
Where does a month go? The bands have been a bit hit and miss lately. I've been looking out for the DXpedition to Spratly Island in the South China Sea. I heard him as loud as 5/9 but the pileups have been bad enough without the deliberate blocking by station or stations unknown in the form of tuning up, keying the mic, playing music, morse code, swearing, various noises, verbal abuse, you name it. Whatever is the matter with these people? I hope they get what they deserve one day. The Spratly island expedition doesn't seem to be the only target of these spoilers. Anyway, I gave up on that one in the end, my little station may do fantastically well in day to day DXing but up against 1kw+ stations I'm probably just wasting my breath. To be honest I don't really want to run a linear amp, there's added satisfaction busting a pileup on 100w with my Hexbeam, and I've done that with surprising regularity.
There have been some interesting special event stations on 40m, mostly to celebrate the 100th anniversary of the sinking of the Titanic.
DX this month has been okay, with my longest distance contact yet with ZL2JBR in New Zealand on 20 metres with a 5/9 report. Other contacts are Kaliningrad, UAE, Hungary, Scotland (DX?!), Sudan, Belgium, Georgia, Swaziland, Singapore, Israel, Jan Mayen, Australia, Albania, Tanzania, Cambodia and Jordan. Cambodia was a difficult contact mainly due to heavy QRM at the moment from Southern Europe, so it wasn't a very satisfying contact, but hope to work him again one day.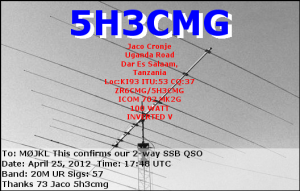 Oh how I love eQSL!