February 14, 2012
Ground socket concreted in….
At long last the ground socket is finally concreted in. What a relief! I was feeling a bit stressed as it's not the sort of job that you want to go wrong, but in the end it was fine.
First job of the day was to get the ground socket into position. I screwed two 4′ lengths of pine to the top of two sides of the temporary ground post, put a stake in the ground at each end, got the post level then clamped the pine to the stakes.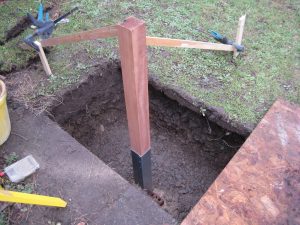 Readymix arrived around 1pm on a tipper lorry (Thanks Wendy Small loads of Bideford) and the mix was perfect. My brother gave me a hand to barrow it in and I spread it around and tamped it down with a long length of heavy wood, making sure it was well packed in where I'd undercut the paving slabs. finished off with a quick float over the top.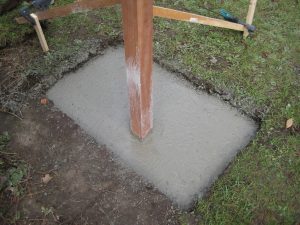 Double checked the levels and all seems okay, and I'm sure well within tolerances of the ground post which is a loose fit to enable easy removal.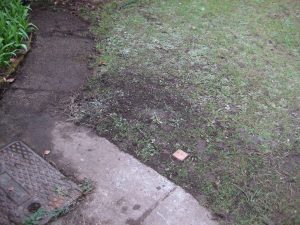 All finished.