May 13, 2013
G100RSGB, IC7600 and other new toys….
Long time no update. A few changes to the shack recently, first being a change of radio. The back cover of RadCom kept catching my attention, it was an advertisement for an Icom IC7600 and it looked like a lovely radio. I've never been an Icom fan, always seemed a bit too grown up for me, so I seem to have grown into the idea of owning one. I was looking on a used radio gear website and spotted a used IC7600 in mint condition for a very good price. I emailed the guy with an offer, and he accepted! Once I figured out how I was going to find the money and how I was going to pay him, the money was deposited in his account and we arranged to meet the following day at half way distance between us. I loved my Kenwood TS590, so it would take something special to impress me, but impressed I am. It's a gorgeous radio. It does some things differently to the Kenwood which I don't like so much, but then it does a lot of things better than the Kenwood. All in all it feels like a big step up. I would've loved to have kept the Kenwood, but couldn't have afforded to really, and it's now in the possession of our new club secretary.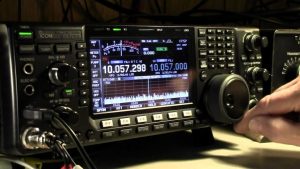 IC7600
I've been getting very good audio reports using my Heil Goldline G-5 but reading around on the net a lot of people were recommending the Heil PR781 with this and other high end model Icom radio's. I had a look online, found one for a great price and a few days later it arrived. The best unsolicited comment I recently received was "stunning audio"! which cheered me up no end.
Today my latest toy arrived, a Beofeng dual band FM handie. A report on the next blog update.
Appledore radio club news is all about the RSGB centenary event. It was our turn to take control of the G100RSGB call sign on the 10th and 11th of April, two days before I was off to the USA for my Utah/Arizona/Nevada/Colorado trip. The timetable had me up first both days with Phil G0BVD doing my logging on day one. We had a great time first day and on our 2 hour stint logged over 170 contacts. The plan was to run the station in contest mode, but in the end I was the only person who did it in this style! Over the two days we logged around 1000 contacts in various modes.
Me on the mic day 2, Terry logging, Helen paper log.