June 2, 2012
Not a lot of activity on the radio this month, I seem to be busy or the bands aren't that exciting. New countries since my last blog entry are Sudan, Ceuta & Melilla and Chile. Other countries worked were previously worked under my old calls of either M6VAT or 2E0JKL, 151 DXCC in total, 141 with my M0 call. There is currently a DXpedition in Bhutan A5A, only a few days left but would be a nice one to have. Shame Spratly Island came and went without the chance to work them.
My good friend Phil G0BVD introduced me to the fun of SSB on 6 meters, and there have been a lot of openings this month. Best of the bunch was into a mobile station in Iceland. It's also been fun bumping into Phil and also another local station, Trevor G0ERX as we're chasing around the band. I said we should start up a local 6m DX group, Devon United Magic Band Operators, or DUMBO for short!
My local club, the Appledore and District Amateur radio club held a special event station for the worked all Britain follow the (Olympic) torch event. Everything went smoothly and we made about 402 contacts all on 40m, and although I didn't get a turn on the key I spent a good few hours logging, which I actually quite enjoy. It was the first time we'd used the new club station in anger, and it all seemed to work very well.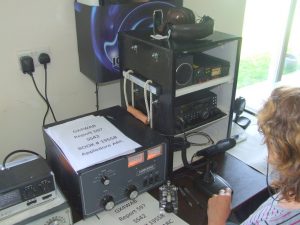 Helen, G0EOA on the key (me logging)
CW is also going very well despite me being the only person now showing up on the night. I have been joining the fast Morse on Thursday nights, but due to a complaint that the speed wasn't fast enough I was well and truly out of my depth last Thursday as I couldn't keep up at the new speed. Shame really, if I don't pick it up quickly I'll just stick to Tuesdays which is pretty fast anyway. Thanks as always to Dave G3YGJ for giving up two evenings a week to send the CW.
I'm currently down to my last antenna (the Hexbeam) as my G5RV pulley rope has snapped, so no 40m for me until I get it sorted. I'm looking to put up a trapped dipole for 40 and 80 as they're the only bands I use the G5RV for anyway. Still very impressed with the Hex, and can't imagine a better fit for me now. It's surprising how often I use the WARC bands and having 6m is a real bonus, and still nobody visiting the house has commented on it!