March 5, 2012
QSL card and ARRL contest..
Decided to design a QSL card with the Hexbeam on it. Going for the minimalist design at the moment, if I don't have a change of mind I might get it printed up. In the meantime it's now my eQSL card and my QRZ picture…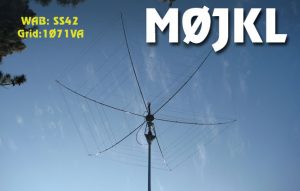 Went to the Exeter Radio Rally yesterday which I enjoyed mainly because I got to have a chat with a few friends who I don't get to see often. Got home by lunchtime and by late afternoon I fired up the radio and did a bit more of the ARRL contest, making 60 contacts into North America over the weekend taking my total US states to 30. Best contact was into California, K6MMM.
Very good reports from the Hexbeam, so looking very promising so far. Most stations worked with the first call (although the 5/9 reports from contests are meaningless!).